Why compare media reforms?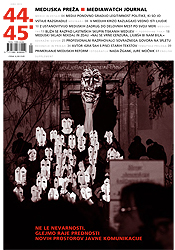 It is possible to blame the wrong approach to "media democratization" where the models of media regulation, institutions and professional culture have been simply transplanted and imitated from the Western countries. But is it also possible to blame and question the model itself?
That question was in the core of the trans-regional conference "Comparing Media Reforms" organized on 29 and 30 November 2012 in Ljubljana by the Peace Institute, aiming to connect the analysts and protagonists of campaigns for media reforms and media system transformations in different regions of the world, beyond the division between "developed" and "non-developed". Its purpose was to revisit analytical frameworks, learn lessons from successes and failures in the field of the media and democracy in different regions and establish grounds and instruments for trans-regional collaboration and exchange.
A thematic supplement of the Media Watch Journal contains most of the contributions and ideas discussed at the conference. Read more